On August 27, Anthropologist Karen Capuder, PhD, will present Unceded Territories: A Brief History of the Confederated Tribes of the Colville Reservation, at the Interpretive Center from 5 to 6:30. Dr. Capuder is an Archaeologist with the Confederated Tribes of the Colville Reservation History/Archaeology Program (CCT H/A), where she conducts ethnohistorical and ethnographic research and engages in consultation with various local, state, and federal agencies.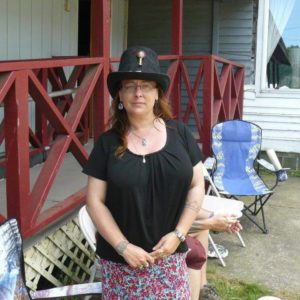 Dr. Capuder is Kanien'keha:ka (Mohawk) and French through her mother and Irish through her father, and her family is from Akwesasne. Prior to coming to work with CCT H/A, Dr. Capuder earned her Master of Arts Degree in American Indian Studies, with a concentration in federal Indian law, from the University of Arizona in 2006. She subsequently earned a second Master of Arts degree in 2009 and a Doctorate in 2013, both in Sociocultural Anthropology from the University of Washington in Sociocultural Anthropology in 2009, and a Doctorate in Sociocultural Anthropology, also from the University of Washington, in 2013. Dr. Capuder's previous work centered on collaborative anthropological research with cultural and spiritual leaders from the Nisqually and Skokomish Tribes. In her spare time, she enjoys gathering plant foods and medicines, engaging in cultural activities in the Mohawk community of Kanatsiohareke and in Native communities throughout the Pacific Northwest, fishing, and gardening.
On the day of the talk, there will be a botanical tour of the Methow Native Plant Garden at 3pm with George Wooten.