Methow Valley Native Garden
Our Native Plant Garden at TwispWorks is the gateway for the Methow Valley Interpretive Center. The garden is a resource for plant identification and inspiration to learn more about the natural history of the Methow Valley, highlighting native habitats, restoration, local geology and cultural uses of native plants.
Visitors can enjoy a leisurely walk along the paths, or stop for a cool breather in the native pit house. The native plant garden has over 150 species of native plants, many of which are identified on small placards.
Background
TwispWorks was founded in 2009 to promote a vibrant community partnership supporting economic vitality, local agriculture, arts and culture and innovative educational opportunities. The Methow Valley Interpretive Center (MVIC) was established a year later with a mission to create an interpretive center that recognizes the pre-European native inhabitants and portrays the geology and natural history of the Methow Valley. The native plant garden was created through a coordinated partnership between MVIC, TwispWorks and the Methow Natives Nursery.
Methow Natives originally began the demonstration garden at their nursery near Winthrop in 2002. The native garden continues to grow and develop on the TwispWorks Campus with over 400 visitors annually. The native plant garden is always open for self-guided visits and its central location makes it accessible to everyone.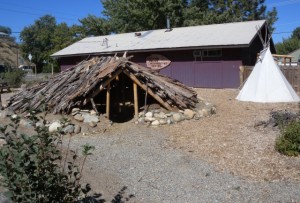 Partners
Since its establishment, the Methow Valley Native Garden has partnered with the Paschal-Sherman Indian School, whose students built a demonstration of a Plateau style pit house in the garden.
The Native Plant Garden also involved a partnership with the Okanogan Chapter of the Washington Native Plant Society, whose members purchased name tags for the plants and helped weed and maintain the grounds.
The Native Plant Garden coordinators continue to seek community partners for mutual support including Methow Conservancy, Colville Confederated Tribes, Methow Restoration Council, Okanogan National Forest, and private partners.
Regional Significance
The Methow Valley Native Garden at MVIC is a regionally important collection of approximately 150 plants native to Eastern Washington. This is the largest collection of native plants in a public native garden in this part of Washington. TwispWorks presents the ideal location to house this garden. Thousands of visitors visit Twisp annually to see and experience the spectacular landscapes of the Methow Valley. The garden serves as an introduction to this ecosystem, deepening visitors' appreciation and desire to help conserve the flora of the Methow Valley. Its diverse range of species, aesthetic design and focus on education draws people from all over the state. The garden is an attractive place for conservation interests to share their message with the public.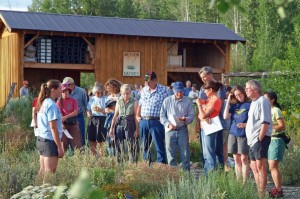 The native garden is organized into habitat groups. Shrub-steppe habitat is a central focus of the garden. Garden beds are developed around bluebunch wheatgrass communities with other native species such as junegrass, Idaho fescue and needle-and-thread grass and a diverse collection of forbs. This diversity ensures continuous blooming from spring through fall and provides habitat for native pollinators throughout the season.
Education on natural landscaping is a central theme in the shrub-steppe beds. The Methow Conservancy's Restoring Shrub–Steppe handbook is available as a guide. Detailed information on how to convert lawn to a water wise native landscape is available. These garden beds serve as an innovative demonstration for community parks that are struggling with water budgets.
Riparian habitat beds and a wetland pond showcase the concerted effort that has been put towards riparian restoration in the valley. The riparian area is in a shadier area, surrounding a dry cobble stream bed with decorative lichen-covered rocks. The riparian zone holds a diverse collection of riparian shrubs including red osier dogwood, Douglas hawthorn, water birch, serviceberry and chokecherry. These plantings provide excellent examples of bird habitat.
This section of the garden introduces visitors to ongoing riparian restoration efforts taking place within the watershed. Visitors learn about the importance of healthy riparian communities for anadromous fish and see first hand how riparian buffers can successfully coexist with sustainable agriculture. There are good opportunities for local restoration interests to broaden their reach and draw more community members and visitors into the salmon restoration effort.
The subalpine habitat offers a taste of the high mountain flora. Some of our most beautiful treeline wildflowers are found in this section of the garden including penstemons, buckwheats and many plants in the sunflower family. These flowers grow amongst a backdrop of native rocks with an occasional burned snag to remind visitors of the habitat.  A pool and wetland is also located in this section.
Paths
Central paths throughout the garden are surfaced with packed crushed gravel. These main walkways will be wide and accessible to people of all ages and abilities. Some smaller paths are planned to branch off from the main walkways, allowing visitors to get off the beaten track and explore the hidden crannies of the garden.
There are sitting spots in the garden to give visitors a chance to sit and reflect on the beauty of our native flora. The native pithouse built by Paschal-Sherman students is a cool place to sit and imagine what it must have been like here hundreds of years ago.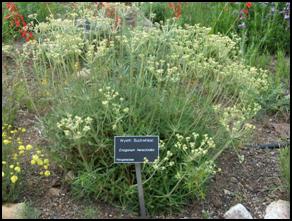 Interpretive signs are an important aspect of the garden. Signs were created through donations from the Methow Natives Nursery and the Okanogan Chapter of the Washington Native Plant Society. A self guided tour pamphlet will allow visitors to experience the garden independently.
Maintenance
A well-developed maintenance plan is a critical aspect of the garden's success. In order for the garden to thrive, its landscape beds are maintained to be both functional and aesthetic. Creating a low maintenance landscape is a central component in the garden design. Mulches, weed barriers, and irrigation timers are included in the strategies for reducing maintenance.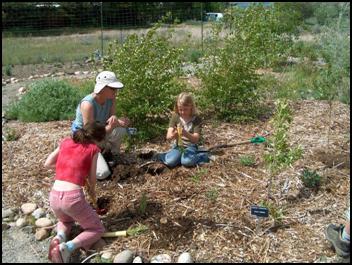 Volunteer programs provide great educational opportunities and are a valuable maintenance resource.
Regular maintenance is achieved by a combination of methods. A regular caretaker oversees maintenance efforts. Volunteers from groups such as the Native Plant Society provide significant help.
Garden Themes
Geology
The use of native rock is an important component of the landscape beds. Rock was brought in from different areas of the valley to create structure, serve as mulch and mimic natural growing conditions. This creates excellent interpretive opportunities by illustrating the details of the geologic forces such as glaciation and volcanism that helped shape our valley.
Ethnobotany
Cultural uses of native plants are an important interpretive theme in the garden. A wide variety of cultural plants are on display in the garden along with information on their uses. Partnerships with local Tribes, botanists, and primitive skills enthusiasts provide opportunities for classes on a wide variety of ethnobotanical subjects, including medicinal and edible plants, basket- and tool-making and botanical dyes.
Invasive species
Millions of dollars are spent annually in the state of Washington to fight the spread of noxious weeds. The garden includes background information on the differences between native and non-native plants, weed identification and control strategies, in an effort to help the public develop an informed approach to working with weeds.
Pollinators
Native gardens are attractive to pollinators. The importance of pollinators for our local ecosystems are emphasized in educational materials. Visitors have the opportunity to see a wide variety of pollinators working the many different flowers found throughout the garden.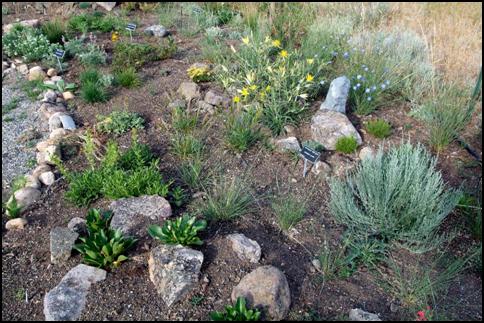 Native landscape bed with local rock and gravel mulch.